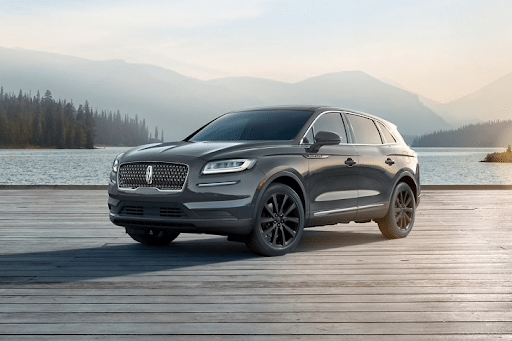 It's time to treat yourself. You've put everyone first, and now it's your turn. Our team at Twin Hills Lincoln understands what it's like to delay gratification and how it feels when you finally get what you've been waiting for! There's nothing better.
If you're ready to navigate new, the Lincoln Nautilus is a perfect place to start. With luxurious interiors, sophisticated features, and safety innovations that matter wherever you're navigating, the Nautilus won't steer you wrong.
Interiors
Inspired by the sacred spaces of American landscapes, the Nautilus interior is a sight to behold. Designed with intention and crafted with skill, the Nautilus will transform you once you settle in behind the steering wheel. Rich earth tones and available natural wood accents are featured prominently.
Your vehicle should provide calm and sanctuary. First-row acoustic-laminate glass reduces traffic noise and other unpleasant outdoor sounds so that you can focus, breathe, and find serenity inside your mobile haven.
Inside, active noise control reduces engine noise while enhancing desired sound to produce a peaceful driving experience. Listen to your favorite music or just enjoy the silence as you travel.
Indulge yourself with available Ultra Comfort 22-way front seats with Active Motion. Available power thigh extenders and 11 independent air cushions, seven of which offer massage, provide you with a way to actively relax, decrease muscle fatigue, and even soothe aches and pains.
If you'd like to bring the outdoors in, our available Panoramic Vista Roof spans both rows of seating and allows for an abundance of sunshine and refreshing breezes. Lincoln included a power sunshade to help keep your interior cool on warm days. Take in your surroundings, all at the touch of a button.
Features
If you're familiar with The Lincoln Embrace, you'll be delighted with this friendly, welcoming feature that's a favorite among our return customers. Our gentle, welcoming sequence acts as a concierge before you settle into the cabin. Features include:
Ambient Lighting. Introduce a subtle warmth or calm cool into your interior with available ambient lighting. As your vehicle senses your approach, gentle ambient lights begin a soft glow. Select from seven colors to complement your mood.
Autofold Side-View Mirrors. When you leave and lock your vehicle, your side-view mirrors automatically fold in, keeping them safe from bumps and nicks. When you return to your vehicle and close the door, your mirrors automatically fold out in preparation for use.
Exterior Lighting. Perhaps our most unique feature is the available animated lighting sequence that senses your imminent arrival in the car. In addition, a Lincoln logo welcome mat is projected onto the ground, welcoming you back.
Connection is key. SYNC 4 provides you with the most recent advances in smartphone connectivity, Over-the-Air Updates, and built-in navigation tools. A beautiful 13.2-inch LCD touchscreen center stack display makes connection easy.
Download the available Lincoln Way App and access Phone As A Key. By connecting your smartphone to your vehicle via Bluetooth, you can execute typical key fob instructions through your phone like enter, start, and drive away without even unlocking your homescreen.
Safety
Your safety is our priority. With driver-assistive safety features onboard, you'll feel like you have a partner helping you keep watch over the road. Lincoln Co-Pilot360 Plus provides you with some of the most innovative safety features on the road today. Safety features include:
Blind Spot Information System. A small icon in your corresponding side-view mirror will illuminate when a vehicle enters your blind spot. This alert allows you to keep your eyes on the road ahead. It's simple but revolutionary.
Adaptive Cruise Control with Stop-and-Go. Set both your preferred cruising speed and the distance you'd like to keep between your vehicle and the traffic ahead. Then, allow us to maintain both. Our system can bring you to a complete stop and then accelerate accordingly. It's like the cruise control you're familiar with - but with a kick.
Lane Centering. Even the most careful among us drift out of our detected lane from time to time. With this system, should that happen to you, we alert you to refocus. If you cannot realign your vehicle, our system will gently guide you back to the center.
These are only a few of the many ways Lincoln works to keep you and your passengers safe. Talk with your sales team member about the features available on your model and ask for a walkthrough of how they work. You'll be glad you did.
About Us
At Twin Hills Ford Lincoln, our team knows you expect only the best. Our Lincoln Nautilus is an absolute dream. Featuring luxury interiors, features that excite, and safety innovations that make a difference in how you feel behind the wheel, the Nautilus is worth your time.
Visit us TODAY on Yonge Street. Slip behind the wheel. Explore your dream car. Then drive it home. You won't regret it. There's no better time than the present. Your time is now.