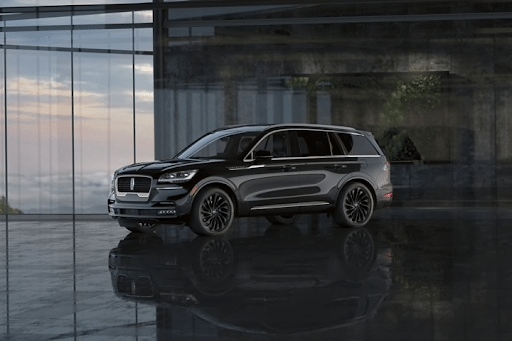 At Twin Hills Lincoln, we understand that starting your commute back to the office may be a blessing! We want to make that work commute as pleasant as possible. If you've found yourself back on the road, why not enjoy comfortable interiors, fun features, and safety innovations that make a difference?
Comfortable Interiors
Whether you're commuting across town or have a much longer commute in store, the Aviator was engineered with luxury comfort in mind. It's enough to make you wish the trip could last a little longer!
It's thoughtfully crafted with design in mind, and you'll appreciate the clean, sleek, sophisticated lines of the interior dashboard and console. Available rich leathers, hand-selected open-pore woods, or aluminum appliques are just a few examples of our quality craftsmanship.
When we recommend you get comfortable, we really mean it! Available heated and ventilated Perfect Position Seats with Active Motion and thigh extenders provide you with 30 ways to adjust your seat and head restraint. Active Motion massages away the knots and tension of the day while you drive so that when you arrive at your destination, you're in a better space than you were before.
The Aviator can seat up to seven with a second-row bench seat, or depending on what you need, available captain's chairs with a center console or a pass-through with a mini console.
Cargo space is a premium. Inside the Aviator, you'll find a convenient split PowerFold third-row that gives you the versatility you seek to pack all the cargo you need.
Active noise cancellation engineering, including acoustic-laminate windshield and front door glass as well as expandable baffles, enhances the quiet of your interior. We've also reduced the noise coming from the engine, powertrain, and exhaust. We think when you have the chance for peace and quiet, you should have it.
Fun Features
We're high on luxury, but leave no stone unturned when it comes to performance! Match your mood and road conditions with Lincoln Drive Modes. With their easy selection by turning a knob in the center console, you have the power to alter suspension settings, steering, shift points, and even ride heights.
Leave your chargers, adapters, and cords at home. Our available wireless charging pad is as convenient as it gets! Just place your device on the pad inside the console, and rest assured you'll have enough "juice" when you get where you're headed.
Your Aviator comes standard with Light Touch Handles. Gently grasp the door handle and with just a slight pull, the door opens. Soft Close Doors mean that with only a gentle pull. the doors close behind you.
At every opportunity, we aim for relaxation. Instead of a harsh, grating ding when your door is slightly ajar, you'll hear the soft yet recognizable sound of a marimba or the mellow echo of a viola. We want you to experience your Lincoln with relaxation and comfort at every turn.
Auto Air Refresh is available as an air filtration and active air monitoring system. Using the standard Cabin Particulate and Odor Filter, Auto Air Refresh monitors, estimates, and displays airborne particulate matter in the interior. Utilizing this feature, the cabin air is refreshed and recirculated to expel stale air and minimize outdoor odors.
Safety Innovations
Safety is never a luxury. At Lincoln, we've engineered some of the most advanced safety innovations on the road today. Our Lincoln Co-Pilot360 1.5 Plus delivers an innovative safety suite that gives you the confidence you need to face the road ahead. Features include:
Intelligent Adaptive Cruise Control. We maintain both your preselected speed and distance to keep between your vehicle and the traffic ahead. Stop-and-Go functionality brings your car to all necessary stops and restarts your car when appropriate.
Evasive Steering Assist. When a slow or stopped vehicle is detected in your path, our system alerts you to slow down. If you are unable to react quickly enough, our system applies brakes for you and will gently help you evade a collision using steering assist.
Reverse Brake Assist. When you're in reverse, if your sensor detects an object or a pedestrian in your path, it will alert you to brake. If you are unable to brake, the system will apply the brakes to avoid collision.
These are just a few of the many ways Lincoln has kept your safety paramount. Ask your sales team member to walk you through all the features available on the model in which you're most interested.
About Us
Our team at Twin Hills Lincoln is excited our friends and neighbors are getting back to their normal routines. Whether your commute is 10 minutes or an hour, the Lincoln Aviator makes any drive worth taking. You may not want to leave the car once you get to your final destination. (It's really that good!)
Visit us on Yonge Street and see for yourself the luxuries that await you inside the Lincoln Aviator. You'll be pleasantly surprised at all the ways we've put your comfort first.