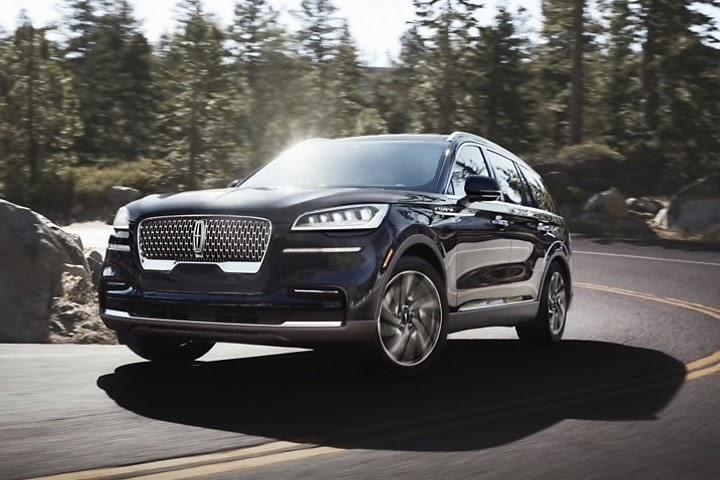 The Lincoln Aviator is enchanting, but the Black Label Grand Touring model is beguiling. With luxury features designed to delight, Lincoln has crafted the ultimate in luxury SUVs. Our professional team at Twin Hills Lincoln in Richmond Hill knows that you will be impressed when you see all that we have engineered just for you.
Capability
The power available under the hood is unexpected. The Lincoln Aviator Black Label Grand Touring comes loaded with a standard twin-turbo 3.0-liter V6 engine that produces 400 horsepower yet maintains the look of a proper luxury vehicle. The plug-in hybrid technology allows for enhanced horsepower and torque and an all-electric range of up to 21 miles.
Interior
The seven-person, three-row SUV blends sophistication and luxury. Ventilated and heated Perfect-Position front seats with thigh extenders provide 30 options of adjusting for comfort, meaning you will never need to stop for a stretch of the legs. Active Motion massage is also available for the front seats, adding an extra layer of luxury that other models just don't provide.
Captains' chairs provide options for the second row, with the possibility of an added small console between the two chairs for comfort. The split PowerFold third-row easily seats two, and with the press of a button, it can quickly be folded flat for extra cargo room.
Drive Modes
Although these drive modes are fun to experiment with, they are designed for the ultimate performance experience. Select your preferred drive mode to suit road conditions by turning a knob in the center of the console: Normal, Conserve, Excite, Slippery, and Deep. Choose to alter the suspension settings, steering, shift points, and even ride heights to match current road conditions.
The Air Glide Suspension is a new favorite feature adding to a delightful ride. With 12 sensors throughout the vehicle collecting data on body motion, steering, acceleration, and braking, the system adjusts for your comfort as you drive. Capable of reading the road 500 times per second and changing settings up to 100 times per second, the Air Glide Suspension can counteract potholes, cracks in the asphalt, and other impediments to ensure a smooth drive in real time.
Safety features are always a favorite, and Lincoln never disappoints. The Lincoln Co-Pilot 360, a driver assistance package full of safety features, provides the ultimate confidence in the drive ahead. This package includes:
Adaptive Cruise Control with Traffic Jam Assist
The Aviator automatically adjusts to the speed and preset distance you've set as your preference. Once you enable the Stop-and-Go feature, the vehicle will come to a complete stop before picking back up as traffic allows, eventually bringing you back to your preferred cruising speed.
Cameras and sensors work together to aid you in navigating the road ahead. If your Aviator detects a front-end collision is imminent, it gently applies the brakes, giving you more stability for what lies ahead.
If rear sensors detect an obstacle in your way, you will be alerted. Should you not take evasive action, the system automatically applies the brakes.
As a perennial favorite, this feature allows you to activate assistance for tricky parallel and reverse parking situations. Press a button, put the vehicle in Neutral, and let your Aviator do the rest. Never feel the frustration of street parking again!
Keep your eyes safely on the road ahead by selecting the information you'd like to see projected onto the windshield. This information is visible even in low-light conditions and when you're wearing polarized sunglasses.
The Lincoln Embrace seems more like a luxury feature than a safety feature. Maybe it's both! As you approach the vehicle with your keyfob, the car anticipates your entry. The approach feature sequence includes a soft-lighting of the door handle pockets. Signature lamps and taillamps begin illuminating, allowing your eyes to adjust from darkness into light, and the Lincoln logo welcome mat is projected to the ground just below the door, ensuring sure footing as you step into the vehicle.
Notable Features
With your delight in mind, The Detroit Symphony Orchestra recorded easy-to-the-ear sounds with a distinctly musical quality (like a bow being drawn across a violin, the resounding, calming echo of viola, or a whimsical melody from a marimba) to alert you to your door being ajar. Now that's luxury!
With our Black Label option, you are provided premium maintenance service with pickup and delivery and complimentary anytime car washes with annual detailing. And with the Black Label, you are entitled to the Culinary Collection - an expertly-selected list of notable restaurants providing at-your-service dining.
Lincoln has thought of everything in the Aviator design, and our team at Twin Hills Lincoln hopes you will experience this luxury for yourself.