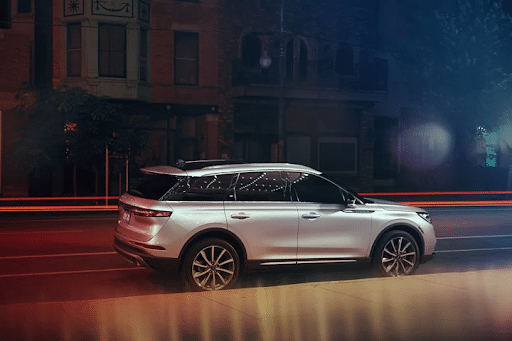 It used to be that our homes were hailed as sanctuaries. But with all the time most of us spend in our vehicles, our team at Twin Hills Lincoln believes if you have the opportunity to make your car your sanctuary - you should!
The Corsair offers a welcome oasis after a long day, a quiet haven for your trip to work, even a peaceful, quiet space while you travel home. The Corsair is a new way to drive, providing luxurious interiors, fun features, and safety innovations that will change the way you feel about driving.
Interiors
Settle in behind the wheel. Sit back and relax. Our available premium leather-trimmed seats support and conform to your body, providing the comfort you need to sink into calm. Perfect Position seats are another available customization that provides 24-way adjustability, heating and ventilation, and power thigh extenders that provide individual leg support. You're not going to stop and stretch your legs because you won't need to!
For an extra layer of relaxation, front seats also provide five available massage settings - Lower Rolling, Upper Rolling, Circular Cushion, Full Recovery, and Relax Recovery, each with three intensity levels. Cancel your spa day - you won't need it after a ride across town!
We provide the flexibility you need and give you the space you deserve. With our Second-Row Sliding Seat, you can adjust your passenger and cargo space with ease. Recline a full six degrees back and slide nearly six inches forward or back. You'll instantly have more legroom for rear-seat passengers or more room in the cargo area.
Additionally, you can fold the second-row flat completely for the ultimate in cargo room. With flexible and innovative cargo areas and configurations, including a package tray and underfloor storage, you'll find plenty of room for all the things you'd like to have.
Features
If you relax best with a warm breeze blowing through your hair, consider our available Panoramic Vista Roof. Let the sunshine in at the touch of a button. Enjoy blue-sky views, cool air, and starry-night skies.
The Hands-Free Liftgate isn't a luxury. It's a must-have. Don't struggle with loading or unloading the Corsair. Just have your keyfob close by and gently wave your foot under the rear bumper. Our liftgate opens at your command.
Nothing sets the mood as effectively as subtle ambient interior lighting. With seven colors to choose from, you can create a relaxing calm or energize your ride. You choose the vibe and enjoy the ride!
Your Lincoln Corsair detects when you're nearby and welcomes you inside with the Lincoln Embrace, a sequence of lighting cues that announce your arrival. First, the Lincoln logo welcome mat, a soft LED exterior glow, and then overhead lighting that lights the interior so you can settle in before turning on the ignition.
Side-view mirrors tuck themselves into the Corsair when you park and lock the doors. If you're maneuvering into a tight parking spot, you can manually fold or unfold them on demand by using a switch on the driver's door.
Safety
Your safety is not a luxury. Lincoln has developed a suite of driver-assistive features that come standard with every Corsair. Providing you with confidence on the road and an expanded awareness of what's happening around you, the Lincoln Co-Pilot360 suite saves lives. Features include:
Blind Spot Detection with Cross-Traffic Alert. When a vehicle enters your blind spot, we alert you by illuminating a small icon in your corresponding side-view mirror. It's a simple and subtle way to let you know traffic is coming up on either side. You never have to take your eyes off the road ahead.
Cross-Traffic Alert. Perfect for crowded parking lots or street parking, Cross-Traffic Alert works when you're in reverse by alerting you to traffic moving from either direction at your rear bumper.
Lane-Keeping System. If you should veer from your detected lane of traffic, our system will gently alert you to refocus. If you cannot realign your vehicle, our system will gently recenter you in your detected lane.
Auto High-Beam Headlamps. Our headlamps detect ambient light and automatically dim or brighten them accordingly. You'll never blind oncoming traffic, and you'll always have the optimal amount of light for dark corners and long stretches of empty highway.
About Us
At Twin Hills Lincoln, our team is eager to show you all the reasons you deserve a sanctuary like the Corsair. Not only does it have luxurious interiors, fun features, and lifesaving safety features, but it is fun to drive and a sight to behold.
Visit us on Yonge Street. Slide behind the wheel. Set the ambient light on a soft glow. Adjust the seats to your liking and take a test drive. You'll never want to leave! Once you've discovered this luxurious sanctuary, you'll never settle for less.