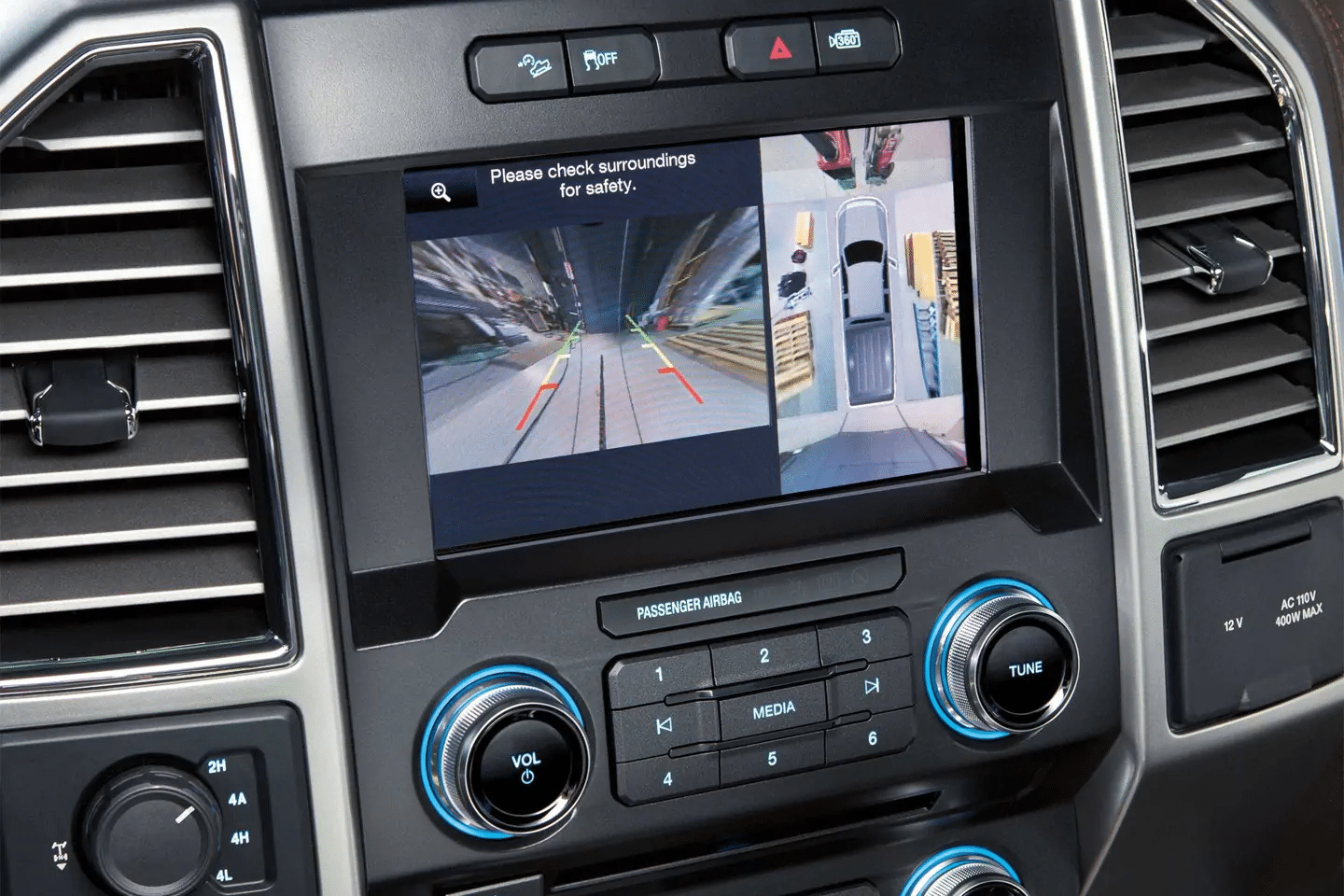 Life is busy, and when you're on the road, the unexpected can happen without warning. Ford Co-Pilot 360 is there to help you feel safe every time you get behind the wheel. Co-Pilot 360 is a suite of features that helps protect you from the chaos of life.
With SUVs, trucks, and more here at Twin Hills Ford and Lincoln, you can find the vehicle that fits your needs and drive away with a smile, knowing Co-Pilot 360 has you covered.
Co-Pilot 360 is an impressive collection of technology designed to make driving safer for everyone.
Blind Spot Information System (BLIS) With Cross-Traffic Alert
Changing lanes on the freeway can be nerve-wracking, especially when no one seems to want to let you over. When you need to keep your eyes on the car in front of you, it can be hard to check your blind spot safely. The Blind Spot Information System acts as a second pair of eyes, alerting you if a vehicle is in your blind spot.
Using radar sensors, your vehicle can detect when someone is outside your sightline. An indicator on the corresponding side-view mirror will light up, letting you know not to change lanes.
The Cross-Traffic Alert feature uses the same radar to detect when a pedestrian or object like an escaped basketball crosses behind you when you're in reverse. The side mirror indicator will flash, an audible warning will sound, and a visual display will pop up on the message center.
Whether you are changing lanes or backing out of the driveway, the Blind Spot Information System with Cross-Traffic Alert will keep you and those around you safe.
Lane-Keeping System
When you get distracted by life, a good song on the radio, or dealing with backseat drivers, it is easy for your vehicle to drift towards the edge of the lane. With a camera always watching the road ahead, the Lane-Keeping System can sense when you start to drift away from the middle of the lane.
Lane-Keeping System has three modes:
Lane-Keeping Alert sends a vibration through the steering wheel to refocus your attention on the road.

Lane-Keeping Aid uses torque to physically guide you back into the middle of your lane.

Driver Alert sounds if you repeatedly drift out of your lane; it will tell you it is time to take a break, and a warning will alert you in the message center.
You can pick and choose the combination of modes that will keep you safely moving forward.
Pre-Collision Assist with Automatic Emergency Braking
No matter how alert you are and how defensively you drive, things happen. A texting pedestrian pops out from behind a tree, or a van slams on their brakes for a cat crossing the road. Using a camera system, your vehicle emits an audible alert and displays a warning on the message center if it detects a possible collision ahead.
If you do not react fast enough, the Automatic Emergency Braking (AEB) goes into effect, making your brakes more sensitive when you apply them. If no action is taken in time, your vehicle can apply the brakes automatically.
Intelligent Adaptive Cruise Control
This feature includes Speed Sign Recognition, Stop-and-Go, and Lane Centering. Once you set your speed, Speed Sign Recognition can adjust your speed to the changes in the speed limit as you drive. When traffic appears ahead, your vehicle can slow itself down to match it. Your vehicle can do all this while making sure you stay right between the lines of your lane.
Evasive Steering Assist
When something happens unexpectedly, you may need to maneuver around it. Evasive Steering Assist provides extra steering support to make navigating around obstacles easier.
Reverse Brake Assist
When backing up, your vehicle can help you know when something is in the way. If you can't brake in time, the Reverse Brake Assist steps in to stop you from colliding.
Rearview Camera
You can now back out of your driveway with confidence and without a kink in your neck. With a rearview camera, you can keep your eyes forward and see what's happening behind you.
Active Park Assist 2.0
Parking can be a nightmare, but with Active Park Assist 2.0, it's a breeze. It can help you locate a spot, and when it does, simply come to a stop, shift into Neutral, and put the Active Park Assist button. Your vehicle will smoothly glide into any spot.
Auto High-Beam Headlamps
Flipping on and off the high-beams can be a hassle. When your vehicle senses low light conditions, it turns on the high-beam headlights for you. It can even tell when there is oncoming traffic and dims the lights so you don't blind other drivers.
BLIS with Trailer Coverage
When you're towing a trailer, changing lanes gets so much harder. Your vehicle's BLIS can sense when traffic is in your blind spot and in the way of the trailer.
Pro Trailer Backup Assist
There's no need to practice backing up with a trailer in an open field. Turn a knob, and your vehicle does the rest, maneuvering your trailer in the direction you want it to go.
Hill Descent Control
Driving down a steep grade with a heavy load in tow can be stressful. With Hill Descent Control, that stress can melt away. As you descend, your vehicle continuously adjusts the brakes to keep your speed steady.
If you want driving in town or on the open road to be fun, not stressful, then visit Twin Hills today. Go online to search our inventory or stop by in person for great customer service. We are here to help you drive with confidence.